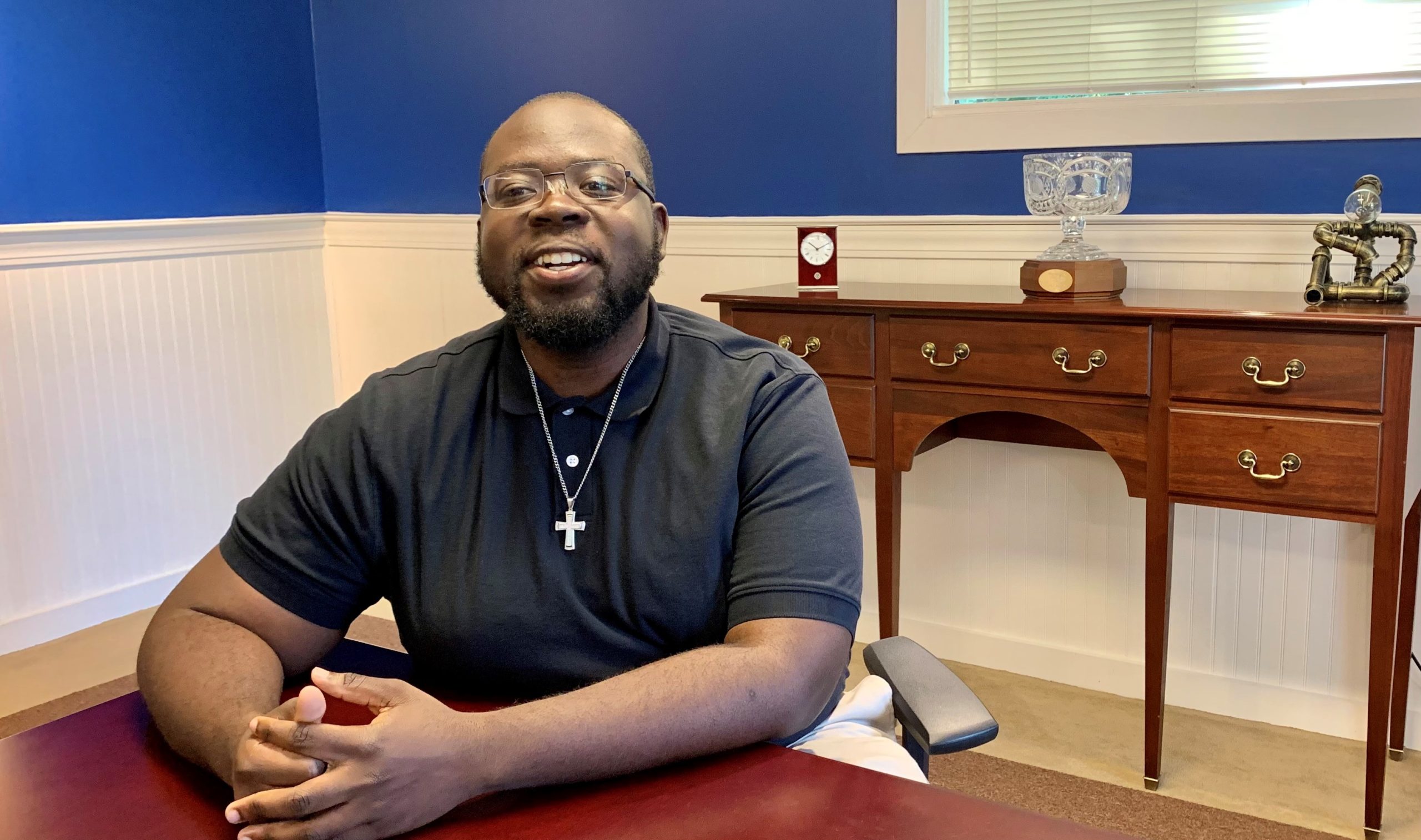 At first meeting, you'll notice Barak Singleton's warm smile and quiet disposition but the rising senior at USC Upstate is chock full of information and great advice for fellow college students in his shoes. The 21-year-old is majoring in Information Management Technology where he's learning the ins and outs of IT, and how to build, maintain and troubleshoot programs like the ones we use every day.
Singleton came to the Upstate by way of Monks Corner, SC where he was born and raised. He's a former football player turned "IT guru in training" who landed with The Newell Group as our summer intern. "It's probably the best decision I ever made coming to USC Upstate… the decision to come up here and be a little bit farther from home allowed me to grow and nurture myself, and to experience things," said Singleton. We got a chance to go Beyond the Intern to hear what he's learned so far, his advice for future interns and what he's reading right now.
What drew you to this internship?
It talked about data management. That jumped out to me as something I could do. It talked about needing to be focused, being able to multitask. That's something I felt like I needed experience in because a lot of my work in the past has involved a little bit of that at school, but it's not the same as what you would learn in a real world setting.
Just a few weeks into the internship, what have you learned so far?
This job has taught me things about my major that I feel are very valuable. It's taught me how important it is to make a system that is user friendly. Some of the systems I've worked on I've thought, "Oh if they had just added this, it would be extremely helpful." In my future, if I decide to go the route of building programs and systems, it's not just about building it how you want it to be, you have to think about the user.
Another thing this job has taught me that I believe is the most important, is just how the job market really works, and how important being "out there" is. I was contacted through LinkedIn, and of course it's one of the things most used around here. If it wasn't for someone at my school telling me how important LinkedIn was, I wouldn't have had a profile, and I probably wouldn't be here. That is something I learned through this experience, how important it is to be out there, keeping your resume updated, keep adding skills, how important it is to portray yourself and sell yourself.
You mentioned you like to read, what are you reading right now?
Right now, I am reading the autobiography of Malcolm X. It is very enlightening because it teaches you about how people are always on a journey. The way you start is never the way you end. To read about his journey it gives perspective on yourself and how you can grow mentally, and how you can continue to learn things, and you'll never know everything so why feel comfortable with just what you know.
What's your advice for the next person in your shoes or those applying to internships?
Keep applying. Make sure when you get there, you listen. You hear things about just how the world works. You're going from high school to probably college, and now you're an intern, you haven't really experienced the real world yet. And you see how important it is to just learn in an environment you've probably never been in before. I feel like that's the most important part, just listen. If you just open your ears, it will teach you a lot.
Like what you see on TheNewellGroup.com? Subscribe to our blog and YouTube Channel, and follow us on LinkedIn to stay in the know!