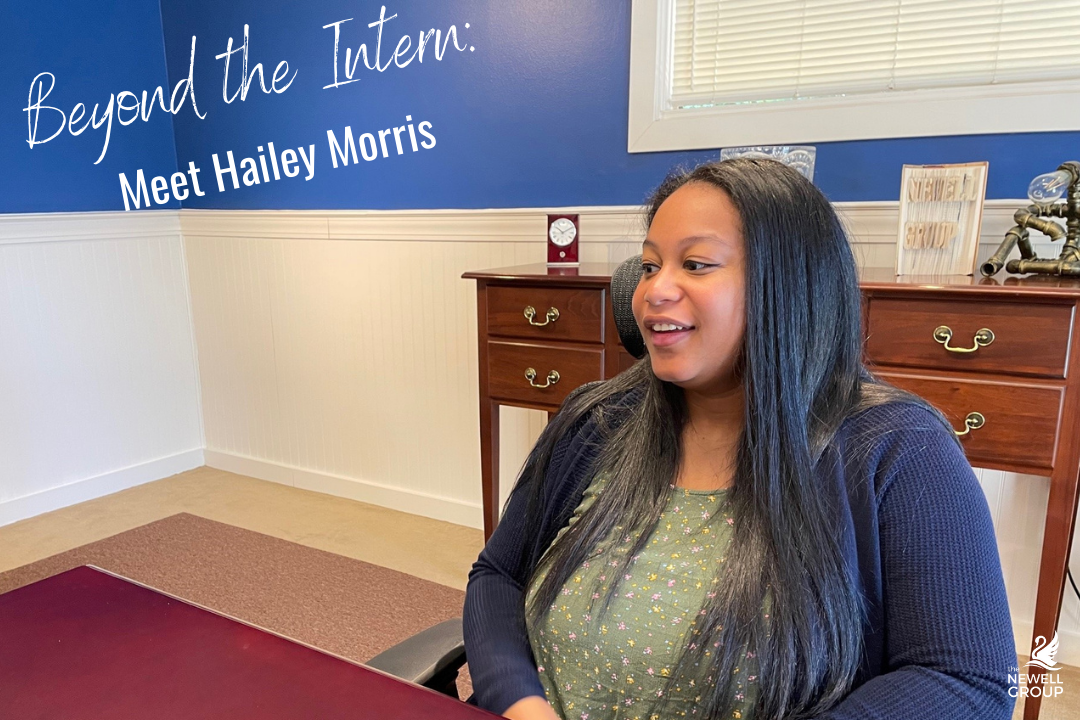 This week we're going Beyond the Intern to introduce you to Hailey Morris. She's a 25-year-old former pianist who's love of moving her hands across a keyboard landed her in the IT world. Hailey joined The Newell Group as our fall intern in September. She recently graduated from Greenville Tech with an associates degree in Computer Technology with a concentration in Cyber Security. Hailey is currently working toward her four-year degree in Software Development. We sat down with her to learn more about what motivated her to take on a role with our company, and who Hailey is, Beyond the Intern.
What drew you to this opportunity?
"I found this job and it said that they needed somebody who had experience working in databases. In school, at least in computer technology, before you can even take your concentration courses, they ask you to take courses from every concentration so you're more well-rounded. So, I did a lot of SQL Server and Microsoft Database 2016… I thought I could do this job because I have database experience. All my other jobs have been admin jobs, so I wanted to have some experience working in an office putting my IT skills to use because I'm also working toward my A+ certification which allows you to do tech support. A lot of those opportunities are also in offices as well."
This is a whole new world for you then… what have you learned about corporate America so far?
"The communication is so different. I've worked at GSP Transportation. I've worked at a bunch of call centers. All offices, but they were really big offices and there over a hundred of us in these big rooms. This is a smaller office. I like that I'm able to go up to people and ask questions. At my last job, even though we were all sitting together, we really only communicated through email. So this is very different in terms of communication. But also, just being in a recruiting office is so different. It's sales, research and human resources all in one. I'm so used to being in an office where it's just sales or just accounting. This is a more dynamic workspace which I have never worked in before. I like it."
What do you hope to get out of this experience?
"I'd like to be a more well-rounded worker. I'd like to be less nervous talking to people. The thing is with technical students, and technical jobs, one of the number one complaints is that IT people don't know how to talk to their clients. Working on the other side, I can get a sense of how people use their computers day-to-day and how they communicate. And when something is wrong, how to communicate with them."
How did you end up studying IT?
"I always liked working with my hands. I took HTML, and I liked it so much. At four-year universities, computer science is a lot of theory. At Greenville Tech it was a lot of hands-on stuff. I liked that. And they train you in a sense of what you'll be doing day-today. As I kept doing it, and more projects, and building things, I liked it more and more."
What are some of your hobbies?
"I watch a lot of movies. My favorite movie is Little Miss Sunshine. I re-watch it a lot. It makes me happy. I just think it's put together well. It's a concept that's been done a million times, but done in a new way. I cook a lot, and I do like to read. I also do strength training."
Is strength training a stress reliever for you?
"I just wanted to be strong. I have Crohn's disease. I was very weak throughout my life as I was diagnosed at 11. I remember going to so many jobs that required you to lift 60 lbs. and I couldn't do it. That was always hard. I never wanted to go into a job interview where they told me I couldn't have this job because I couldn't lift 60 lbs. So I wanted to be stronger for myself. I wanted to be able to do the jobs that everybody else could do. Growing up no one ever told me I couldn't do things. So when I started going out for jobs and they were asking me to do these things and I couldn't do it, it stunk. So I wanted to do it… There's a very good work ethic on both sides of my family so being told we weren't able to do things was never part of our of our vocabulary."
Why are opportunities like this one at The Newell Group, important for young learners to take advantage of?
"I think it puts students like me in the shoes of an office worker. A lot of times in an office, your IT department, it's not connected to you. Even if it is it connected to you, there is this huge disconnect between the two of you. When in reality it shouldn't be like that, you should work together. Obviously, they teach us that from books and we'll do exercises with one another. But, actually working in that environment will teach you how an office actually runs. Working in an office and learning what your client does day to day will really help you be more empathetic, and sympathetic. You never really know what you're going to do day-to-day."
Like what you see on TheNewellGroup.com? Subscribe to our blog and YouTube Channel, and follow us on LinkedIn to stay in the know!